Prices: £25 an hour or £200 for 10 hours
At Royals Gym we have fully qualified male and female Personal Trainers to help you reach your goals faster.
Personal Training sessions will include a detailed body composition analysis which will enable us to measure your Bodyfat Percentage, Body Mass Index and Basal Metabolic Rate.
We'll use this information and your goals to tailor a specific programme to suit you, your body and your lifestyle.
Our Personal Trainers are also able to offer nutritional advice to fine tune those results even further.
Jordan:
Since qualifying as a Personal Trainer, I've come to realise how important my physical and mental health are. I for one have had many hurdles in life but my finding of fitness has really helped me.
I am always open to to learn new skills through different forms of training and these I can pass on to my clients.
Throughout my PT career I have learned that the gym can be an intimidating place for a some people, but everyone is here for their own personal reason and we as personal trainers are here to support that. Whatever your goal, I am here to guide you on how to get the full benefit of the gym and what it has to offer, through both it's equipment and its social aspect.
We all have to start somewhere, but we will get there together.
I take great pride in my appearance both in and out of the gym environment and am proud of how far I have come within my career. Being able to bring those experiences to others and support them to reach their own goals gives me complete job satisfaction.
Paul: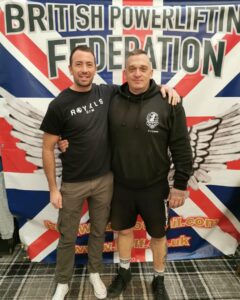 I am level 1&2 gym instructor and level 3 personal trainer, currently completing my level 4 in strength and conditioning.
I love helping people to achieve their goals, whatever those may be. From weight loss to competitive sport such as powerlifting and strongman. I also offer written programs to help achieve your goals.
I have competed for Team GB in the British Powerlifting Federation, taking silver in the 2021 IPL World Championships and have qualified for the British and European Championships 2022.